History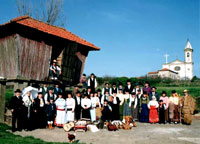 » The Folk Group of S. Tiago of Silvalde, was born on 25 of November in 1978 and registered on 16 th April 1981, the day its was approved.
It result from an Organizing Commission put up in Silvalde to participate in a solidarity movement called "The Pyramid."
As it was necessary to give a name to the Group, the on that came up was the local Patron Saint's: "S.TIAGO".
According to the research done it portrays faithfully the traditions and the customs of its homeland. When they started their activity this Folk Group faced some difficulties in becoming well known by the public. Having past its earlier years the effort began to show its results and the group ventured beyond their initial geographical limits.
To preserve the values of their ancestors and their tradition they have put up in 1988, an Ethnographic Museum where among other objects farming tool a traditional costumes are on display.
The Group as already participated in several National and International Folk Festivals and every year they organize their own "FESTIVAL" ever since 1984. Internationally speaking they have been to festivals in Spain, France, Italy, Belgium, Germany, Netherlands, Denmark and Poland.
The costumes they wear go back to the 19th Century and among others they evoke the traditional bride and groom, the rich country girl, the farm workers, the fisherman, the people going to the market and feasts.
The most representative dances of the region are: "Moda do Verdegar", "Tirana", "Ciranda", "Vira de Roda", "O Velho", "Lambão", "Rusgas" and many others.
The instruments played are the accordion, the drum, the triangle, the "reco-reco" (a wooden traditional instrument) and different types of guitars. The Group is also an effective member of the Portuguese Folk Federation which gives them technical support and belongs to the affiliates of national leisure club for workers called "INATEL".